###Crane Game Girls / Bishōjo Yūgi Unit Crane Geeru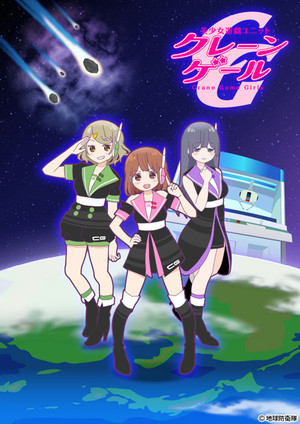 Genres: comedy
Running time: 5 minutes
Number of Episodes: 13
Vintage: 2016-04-06
Plot Summary: Mirai, Ayaka, and Kyōko are the only ones who can save Earth from being destroyed by a group of asteroids. They are hired by Sayo, the representative of a shadowy organization, and the organization starts work on turning them into an idol group. While the trio are more than prepared to be idols, they are instead taken into an arcade.
###Crane Game Girls Galaxy / Bishōjo Yūgi Unit Crane Geeru Galaxy
Genres: comedy
Running time: 13 minutes
Number of Episodes: 12
Vintage: 2016-10-05
Plot Summary: Tokiko is summoned by Boss and learns that Dark Gorilla is coming to attack Earth again. A new crane game "Galaxy" has been completed to put up a fight against Dark Gorilla, and the three Crane Game Girls are on a mission to protect Earth once again. However, the enemy intelligence that shows up on their monitor is not about Dark Gorilla, but three girls—idols just like them.