Per PR:
FOR IMMEDIATE RELEASE
MADE IN ABYSS 2 RELEASES JULY 6 ON HIDIVE! SAVE THE DATE
We've got a release date and time for MADE IN ABYSS 2! Episode 1 of MADE IN ABYSS: The Golden City of the Scorching Sun (Made in Abyss: Retsujitsu no Ougonkyou) airs on Wednesday, July 6, 2022 at 10:30 am EDT (14:30 UTC)!
If you still need to catch up, don't worry: you can watch the first season of MADE IN ABYSS and all three movies right here on HIDIVE, and we've even written a viewing guide if you have questions about the watch order. Just remember: The third movie is NOT optional! You need to watch it before watching the 2nd season.
Trailer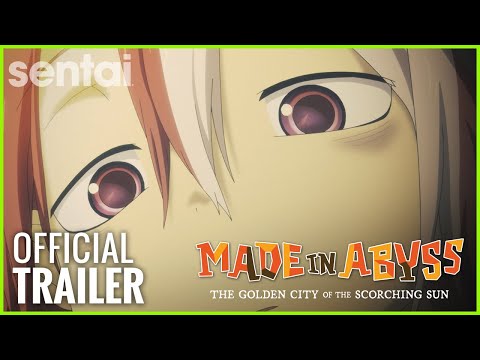 HIDIVE Show Pages
MADE IN ABYSS
MADE IN ABYSS: Journey's Dawn (Tabidachi no Yoake)
MADE IN ABYSS: Wandering Twilight (Hourou Suru Tasogare)
MADE IN ABYSS: Dawn of the Deep Soul (Fukaki Tamashii no Reimei)
Japanese Cast
Riko - Miyu Tomita (Minami Yamamoto in Wasteful Days of High School Girls)
Reg - Mariya Ise (Antarcticite in Land of the Lustrous)
Nanachi - Shiori Izawa (Noriko Kamomebata in Scum's Wish)
Meinya - Natsuko Hara (Yuko Takeyama in O Maidens in Your Savage Season)
Faputa - Misaki Kuno (Hawk in The Seven Deadly Sins)
Vueko - Yuka Terasaki (Akari Hyuga in Bloom Into You)
Wazukyan - Hiroaki Hirata (Sanji in One Piece)
Belaf - Mitsuki Saiga (Yelena in Attack on Titan: Final Season)
Majikaja - Hiroki Goto (Futoshi in DARLING in the FRANXX)
Maaa - Kana Ichinose (Yuzuriha Ogawa in Dr. Stone)
Moogie - Kimiko Saito (Rem in Death Note)
Gaburoon - Ryota Takeuchi (Asgeir in Vinland Saga)
Prushka - Inori Minase (Hestia in Is it Wrong to Try to Pick Up Girls in a Dungeon?)
Bondrewd - Toshiyuki Morikawa (Griffith in Berserk)
Japanese Crew
Director Masayuki Kojima
Series Composition Hideyuki Kurata
Character Designers Kazuchika Kise, Yuka Kuroda
Music Kevin Penkin
Animation Studio Kinema Citrus