posted on 2021-09-19 02:30 EDT by Crystalyn Hodgkins
Made in Abyss fan meeting set for November 21 outside Japan
November 21, 2021 8:37am CST
New key visual also shared ahead of next season's 2022 premiere
Man, them white whistles are such sociopaths.
Riko's mother is probably going to be the worse of them all.
Poor Riko.
posted on 2022-01-12 11:18 EST by Alex Mateo
Programming block airs Made in Abyss at 1:30 a.m. EST
Out of this lineup (have not seen any of the Blade Runner anime), MiA is the darkest of the bunch.
Hopefully the upcoming game is better than the DanMachi one.
When are they going to dub Redo of Healer and put it on there?

They'll get them million views like the good old days.
The upcoming game should be a 'Dark Souls' like game.
It fits with the brutalness of the world.
posted on 2022-04-01 21:45 EDT by Egan Loo
The Golden City of the Scorching Sun season casts Misaki Kuno, Yuka Terasaki, Hiroaki Hirata, Mitsuki Saiga
April 25, 2022 8:26am CDT
Lead cast members, director and producer will be on hand for the stream on May 5
I need me some MiA pawns.
posted on 2022-05-05 08:51 EDT by Egan Loo
Hiroki Gotō, Kana Ichinose, Kimiko Saitō, Ryota Takeuchi join new season
posted on 2022-06-03 05:35 EDT by Crystalyn Hodgkins
New video focuses on Ganja group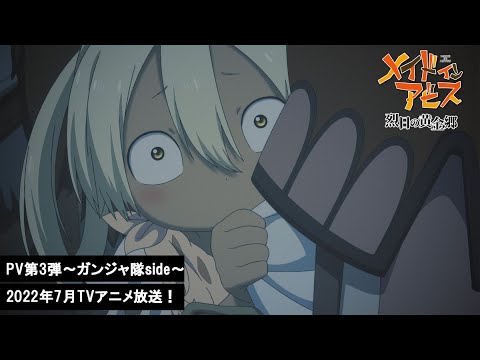 Just a note that the game is English dubbed by the anlme's cast