March 17, 2021 2:21pm CDT
Prepare to meet the girls' IRL counterparts at this year's virtual AnimeJapan
posted on 2021-03-28 02:10 EDT by Crystalyn Hodgkins
5-member unit Megami Ryōsei perform opening, ending themes for anime about dormitory of troubled women's university students
posted on 2021-04-29 22:28 EDT by Rafael Antonio Pineda
posted on 2021-06-17 23:25 EDT by Rafael Antonio Pineda
You go Sentai! 3 new series this season!

2021-07-07T05:00:00Z
2021-07-07T05:00:00Z
12 year old surrounded by older women…'snort'…


posted on 2021-07-08 00:52 EDT by Rafael Antonio Pineda
Anime premieres on July 14
Mother of the Goddess' Dormitory, Ep 1 (Sub, Broadcast/Uncensored), is live at HIDIVE
Mother of the Goddess' Dormitory Official Teaser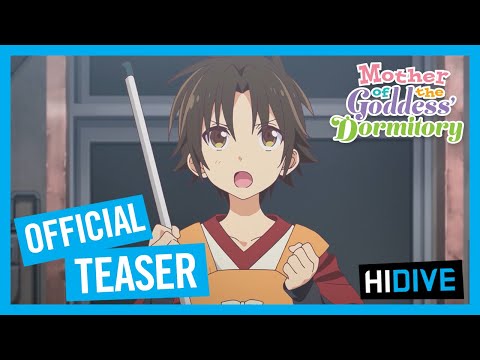 Jul 14th 2021
July 14, 2021 8:04pm CDT
The CD single will be available on July 28, 2021
Everyone is gone for a bit soon !
I can chill in the comfy chair , watch on the big TV , and relax .

Getter Arc is great ,but always nice to chill with some fanservice and hopefully a nice story .
Edit:
First episode was really good . Animated very well . Fun and lighthearted . Fluffy and soft . Can't wait for episode 2 .
Definitely one of my need to watch each week shows this season .
I'm guessing this version is for those who want some censorship, but not overblown as shows like this tend to do?
Mother of the Goddess' Dormitory, Ep 1 (Sub, See-Through Version), is live at HIDIVE
Mother of the Goddess' Dormitory, Ep 2 (Sub, Broadcast/Uncensored), is live at HIDIVE
Mother of the Goddess' Dormitory, Ep 2 (Sub, See-Through Version), is live at HIDIVE
Mother of the Goddess' Dormitory, Ep 3 (Sub, Broadcast/Uncensored), is live at HIDIVE
Mother of the Goddess' Dormitory, Ep 3 (Sub, See-Through Version), is live at HIDIVE
Mother of the Goddess' Dormitory, Ep 4 (Sub, Broadcast/Uncensored), is live at HIDIVE