posted on 2021-02-10 22:26 EST by Rafael Antonio Pineda
1st film opened in Japan on Thursday
March 20, 2021 12:18am CDT
The six-chapter series' second part is set for the fall of 2021
Now we just need the Girls und Panzer Announcement and I'll be even more happy
By the way I'm assuming Distribution Rights includes Home video, yes?
*Edit: by the way just for clarification, the Quarter they licensed Princess Principal and Made in Abyss (Summer 2017) was the last time I felt they won the licensing wars
Feels like a lifetime ago…

Princess Principal: Crown Handler (Chapter 1) is live at HIDIVE
Just watched Part 1, It's off to a great start. It gives a bit of ominous foreshadowing and a warning to Ange, hopefully she'll get the hint.
I think Aoi Koga did a great job as Ange too, she even sounded like Ayane Imamura
posted on 2021-06-07 07:01 EDT by Crystalyn Hodgkins
Film's staff return for OVA on BD shipping on September 28
Now I just have to wait a year, for the BD / Dub release…
posted on 2021-07-14 23:23 EDT by Egan Loo
Opens in 46 theaters in Japan
September 26, 2021 8:05pm CDT
Theatergoers can receive mini colored papers drawn by the original character designer
2/21/2022 1:59:11 PM
WHO'S VOICING YOUR FAVORITE PRINCESS PRINCIPAL CHARACTERS? CHECK OUT OUR OFFICIAL CROWN HANDLER PART 1 CAST LIST AND DUB CLIP!
Don't forget to pre-order your copy when it releases on March 15, 2022!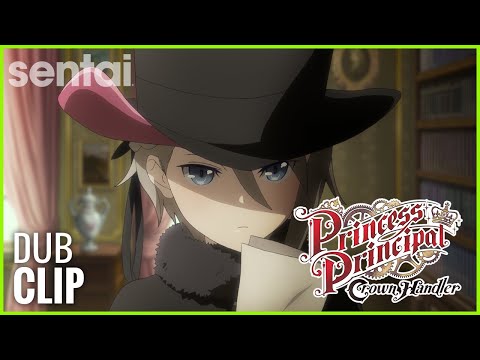 DIRECTOR - KYLE COLBY JONES
ADR Writer - Marta Bechtol, Kyle Colby Jones
Mix and Sound Design - Ricardo Contreras
Cast
Ange - Avery Smithhart
Princess - Patricia Duran
Dorothy - Elizabeth Bunch
Beatrice - Shanae'a Moore
Chise - Rachael Messer
Grand Chamberlain - Sean Patrick Judge
Duke of Normandy - Jay Hickman
Gazelle - Melanie Burke
Francis - James Belcher
The Queen - Julie Oliver-Touchstone
L - David Wald
Seven - Heidi Hinkle
Colonel - Chris Hutchison
Dolly Shop - Mark X Laskowski
Narrator - Marty Fleck
Charles, Palace Guard - Mike Yager
Not Charles - Kyle Colby Jones
Head Butler - John Swasey
Inspector - John Gremillion
Also with:
Olivia Swasey
Luci Christian
And I'm going to say the same thing I said with RahXephon. Come on Sentai, would it have killed you to dub the OVA included with Crown Handler Part 1? (Obviously the answer is yes, because they didn't) I mean I get it , it's a short OVA, but you had all the actors in the studio to record and you had the OVA translated and subbed, so it wasn't going to be that more expensive to do, but hey that's just me.
2022-06-22T05:00:00Z
English Cast and Crew
DIRECTOR - KYLE COLBY JONES
ADR Writer - Marta Bechtol, Kyle Colby Jones
Mix and Sound Design - Ricardo Contreras
Ange - Avery Smithhart
Princess - Patricia Duran
Dorothy - Elizabeth Bunch
Beatrice - Shanae'a Moore
Chise - Rachael Messer
Grand Chamberlain - Sean Patrick Judge
Duke of Normandy - Jay Hickman
Gazelle - Melanie Burke
Francis - James Belcher
The Queen - Julie Oliver-Touchstone
L - David Wald
Seven - Heidi Hinkle
Colonel - Chris Hutchison
Dolly Shop - Mark X Laskowski
Narrator - Marty Fleck
Charles, Palace Guard - Mike Yager
Not Charles - Kyle Colby Jones
Head Butler - John Swasey
Inspector - John Gremillion
Also with
Olivia Swasey
Luci Christian
Princess Principal ~ Crown Handler ~ Chapter 1 (Dub) is live at HIDIVE