Watched the first episode dub this morning.
I feel the ENG cast is perfectly fine. The JP cast is really one of those excellent ones that it's hard to hear someone else doing the voices. Need to hear more though to be 100% on this.
I find the dub pretty good!
Looking up, Kimberly seems to be fairly new on the English anime dub scene, and Nagatoro appears to be her very first staring role.
Some parts I did feel were a little bit off, such as the scene in the library, when Nagatoro first calls Naoto "Senpai".
I want to wait until the rest of the cast appears properly to give full judgement of the cast overall.
And Naoto does interestingly sound meeker in the dub!



June 30, 2022 4:41am CDT
Second season on the way with 2nd Attack title
posted on 2022-06-30 10:36 EDT by Alex Mateo
Shinji Ushiro to direct Don't Toy with Me, Miss Nagatoro 2nd Attack at OLM
July 17, 2022 8:16am CDT
Senpai! The teasing returns early next year on Crunchyroll
August 06, 2022 6:07am CDT
Crunchyroll will stream the second Nagatoro series this January
Don't Toy With Me Miss Nagatoro 2nd Attack | OFFICIAL TRAILER 2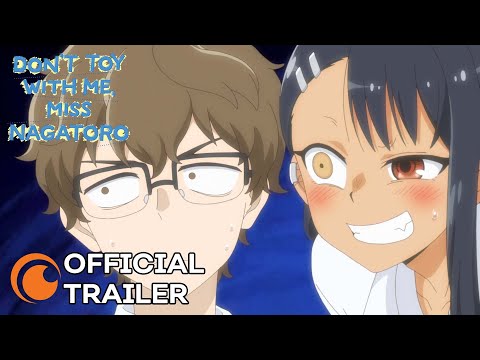 posted on 2022-10-21 06:16 EDT by Crystalyn Hodgkins
Yoshino Nanjō, Sayumi Suzushiro, Kaori Maeda join cast
November 18, 2022 8:43am CST
Sumire Uesaka is back with the new OP, "LOVE CRAZY"
posted on 2022-11-25 04:26 EST by Crystalyn Hodgkins
Series premieres on January 7