###Those Who Hunt Elves / Elf wo Karu Mono-tachi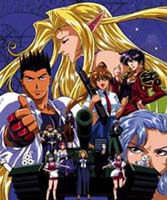 Genres: adventure, comedy, fantasy
Themes: elves, other world
Objectionable content: Significant
Number of episodes: 12
Vintage: 1996-10-04 to 1996-12-19
Plot Summary: An actor, a martial artist, a gun-crazy high school student, and their tank are transported from earth to a world of elves and magic. However, the spell to return them home was botched resulting in fragments of the spell being magically imprinted onto their skin. Their solution: run around looking for elves and stripping them wherever they find them.
###Those Who Hunt Elves 2 / Elf wo Karu Mono-tachi II

Genres: adventure, comedy, fantasy
Themes: elves, other world
Objectionable content: Significant
Number of episodes: 12
Vintage: 1997-10-02 to 1997-12-18
Plot Summary: After Junpei botched the second attempt to transport back to Japan, the four embark their journey once again to collect runes imprinted on skin of Elven females by stripping them. Celsia is cursed into the form of another animal this time.