posted on 2021-09-06 21:32 EDT by Rafael Antonio Pineda
Last of original cast's final appearance is in Part 6's "Episode 0," to be replaced by Akio Ohtsuka
posted on 2021-09-07 13:40 EDT by Alex Mateo
Anime begin streaming subbed/dubbed on September 14
Funi still sticking it to Sentai.
LOL!


From what I've heard, It was a deal for some TMS catalog titles and they are just finishing it out. The timing is really ironic though lol
TMS is spreading the Lupin around .
Most of that has been on various streaming sites for a while now .
I'm sure HiDive could get it if they asked .
He's been around the block for a long while it's the 50th Anniversary coming up around the corner
If there's still fans of Lupin mischievous adventures
Celebrate a little in the TAN forum games " Top Hat " for short thread
I hope the 50th Anniversary Book is Big like Apple inc I'm hoping they make the Book spectacular and captures all of Lupin's " Monkey Punch " Old and New personality

posted on 2021-09-08 15:05 EDT by Alex Mateo
Anime premieres on October 9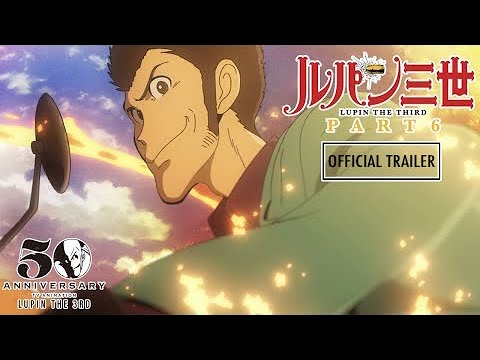 September 15, 2021 8:42am CDT
Latest TV anime installment celebrates 50 years of Lupin this October
September 16, 2021 6:18pm CDT
See the four episodes that won the 50th anniversary fan poll
This the first one with the new JP VA or the last one with the one that's retiring?
edit NVM, it's the gun toting guys VA that's retiring
2021-09-24T05:00:00Z
World premiere of the English dub of LUPIN THE 3rd PART 1, Episode 1, presented alongside the first two subtitled episodes of the eagerly awaited series LUPIN THE 3rd PART 6 in theaters for a limited-time, special engagement
9/24/2021 10:17:35 AM
(List of theaters in the link)
I would like to see an anime nendoroid version spinoff of Lupin the 3rd like the lego Batman
Lupin is the anime dark night
Seen this and It was exactly how a envisioned the Nendoroid version spin-off of Lupin the 3rd
And they would just be doing silly stuff like stealing candy from a baby and old folks something like that
I also put me in the mind of Wario get it together
This looks like a good artwork book to have
But it's not in the US


But still glad it's available somewhere