December 20, 2019 8:00am CST
Volume 07 of time-slip series by author Kionachi and illustrator Eretto hits Japanese bookstores on December 25, 2019
posted on 2020-11-24 22:48 EST by Rafael Antonio Pineda
Story centers on failed game creator who travels back in time
February 26, 2021 6:55am CST
Main staff and cast revealed for upcoming adaptation based on time-slip romantic comedy light novel series
posted on 2021-02-26 11:56 EST by Alex Mateo
Visual also unveiled for 2021 anime
March 06, 2021 8:03pm CST
Poppin'Party and ARGONAVIS perform the OP and ED theme songs
posted on 2021-03-06 22:32 EST by Crystalyn Hodgkins
Poppin' Party, Argonavis perform theme songs
posted on 2021-06-04 05:42 EDT by Rafael Antonio Pineda
Miyuki Sawashiro, Hidenori Takahashi, Atsushi Tamaru, Sae Ootsuka, more join anime
June 09, 2021 3:36am CDT
The time-slip TV anime premieres on July 3 in Japan
June 26, 2021 1:00pm CDT
Remake Our Life! | OFFICIAL TRAILER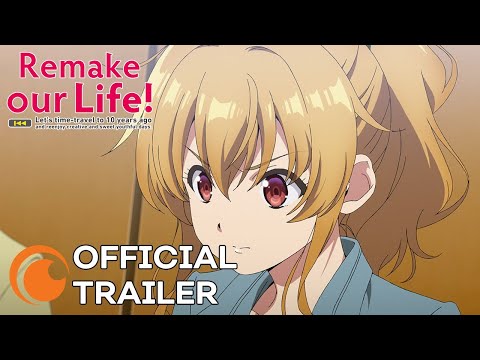 June 29, 2021 2:00pm CDT
Remake your summer plans and dive into this upcoming series!
Jul 3rd 2021
Nothing Beats Yogurt in the Morning! | Remake Our Life!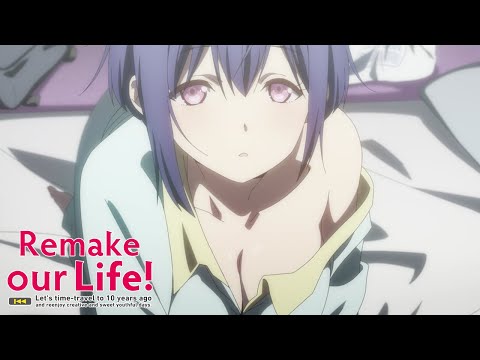 Nice little fanservice there at the beginning of episode 1
@Newshawk @Series5Ranger @OneWayDevil
(The irony is I paused it cause I recognized the girl from ISLAND.)
Did you notice the three books on the left?
Grisaia series.
That's why I mentioned you guys

Although on the Grisaia games while it;s ok to have Amane on the first game, Asako should be where Michuru is because that's clearly the Labyrinth logo
As you are aware, I'm not too familiar with Grisaia.
Did start, but I kinda had to stop at the dead cat…

But couldn't that possibly be a limited print version of it?
You know with everything Otaku related and limited edition…