I saw the first episode last week, and I thought it was hilarious.
Just finished up ep. 02

All I have to say is… Vampire Ninja!
That being said…
http://img.photobucket.com/albums/v295/thecoffeegod/smilies/lol.gif
I loved how she kept calling him a piece of shit.
Episode 2 –
spoiler

It was interesting to see how Ayumu became a zombie, but it looks as if there's more to it. I really like Seraphim and the way she's treating Ayumu – especially after she volunteered to be his servant. I loved how she popped out of the ceiling too. I am also enjoying the "Ayumu vision"!
Finished up ep. 03

Another great episode!
I'm definitely thoroughly enjoying this one.
Episode 3 –
[details=spoiler]It was hysterical that they boys ate at "Mask Donald Hamburger" where everyone buys a wrestling mask with their meal. Funny too that Orito says girls don't like masks like that and yet every girl in the background got one and was wearing it. The "Orito vision" is just as funny as "Ayumu vision".
I liked how Haruna and Sera spent the day playing games to fight over the pudding cup and Hellscythe ate it on them. Could she really be the serial killer? She doesn't seem like one. But I like the mystery of it.[/details]
Episode 4 –
[details=spoiler]The mystery of Yuu is solved! It seems that she takes on Ayumu's pain when she heals him. I really feel sorry for her now. She has a huge burden to bear. Yuu can never speak because not only are her words magic, but they cause her great pain. She can never show emotion because her magic may lose control and affect fate. Yuu wears armor to suppress her magic and considers herself a monster. Her blood can grant immortality and even after death, her magic will live on. This is so sad and I'm glad that Ayumu accepts her for what she is and wants her to remain with him.
An interesting tidbit about the serial killer too. Could it be possible that the killer is sacrificing the souls of the dead for power? Or is it something more? If the killer is making offerings to the king of the night for power, wouldn't the killer also be after Yuu for her power? It would make sense. But that whole fight with the whale was hysterical. As a Masou Shoujo, Ayumu has gotten even cuter and Haruna sounds a little jealous! And it seems that the serial killer has gone back to finish the job on Kyoko too. How sad![/details]
Finished up ep. 05

That was a rather awesome episode!
Now we know who the enemy is.
Episode 5 –
spoiler

So, Kyoko is the serial killer and a Masou Shoujo too. I wonder at her motives though. There seems to be something more to it.
Finished up ep. 06
Oh… my… god!
[details=spoiler]That battle was epic!
Yuu is soooo powerful!
Looks like we find out who is actually behind all of this, and what his history is from Yuu.[/details]
Episode 6 –
[details=spoiler]It was funny to see Hellscythe as a Masou Shoujo too. I didn't know she could do that! And it was she and not Ayumu that took Haruna's magic. Interesting.
But the fact that Yuu can kill with just a word is awesome. No wonder she doesn't speak! And I can see how much pain she's in when she does. Everything that was said about her is true.
It's a little complicated to think that a dead zombie called king of the night that was created and killed by Yuu had possessed one of Dai's students. And with Kyoko's collecting of lives, I wonder if he is trying to come back to life. It seems he'd like revenge against Yuu as well, so I'm sure he'll be back. I just hope the group is strong enough for him the next time.[/details]
Finished up ep. 07
Definitely a slower less epic episode than the previous one.
[details=spoiler]Though now it seems we have a new addition to the harem, and due to circumstance, Ayumu is now married to her.
And to make it even more interesting, Mael Storm is also a vampire ninja of an opposing clan of Seraphim.[/details]
Episode 11 –
[details=spoiler]The girls go around town and pick up the pieces of Ayumu – literally. It was a little gross and a little funny. Even worse when the parts got dumped in the yard and started to move! Now he's whole but won't revive and Haruna and Kyoko fight over who should kiss him awake. Sera ends up trying to wake him but gives him poison instead!
It seems that Ayumu doesn't want to wake up and is stuck inside his own mind. Haruna blames herself and asks Dai-sensei for help. Great – now Ayumu gets to be harassed by Haruna in his unconscious too! At least it's enough to wake him up. Now to get Yuu back!
The King of the Night seems to have a lot of power of Yuu. I wonder why she just doesn't destroy him. He wants to die anyway. Sera plays a lovely tune to soothe the summoned spirits as Ayumu and King of the Night fight. It looks like Haruna got her magic back and can transform again. And Sera is joined by an entire vampire ninja orchestra – dressed as maids!
Although it was probably hurting Yuu, I cheered when Ayumu started beating the heck out of King of the Night. Yuu stops the fight and King of the Night begs her to end his existence and she finally does. Again it was sad and funny because he asks Yuu to make him a penguin as he dies. And with his death, Sera closes the gate to the underworld.
When everything is said and done, Ayumu begs Yuu to stay with him and she speaks! How did she not hurt him by speaking? It brought tears to my eyes when they hugged and Yuu promises to stay with Ayumu. He then places her wish in her hand and asks her if it came true.
And it seems a happy ending with everyone living together again. But I think it would have been very satisfying if the show ended here. I'm not sure what more they can do next week but I can't wait to find out.[/details]
I've watched a few episodes. From what I seen so far I won't mind watching the whole series.
[quote=LadyOfWicca]
Episode 11 –
spoiler

The King of the Night seems to have a lot of power of Yuu. I wonder why she just doesn't destroy him. He wants to die anyway. Sera plays a lovely tune to soothe the summoned spirits as Ayumu and King of the Night fight. It looks like Haruna got her magic back and can transform again. And Sera is joined by an entire vampire ninja orchestra – dressed as maids!

This was my favorite part!
spoiler

I couldn't help but smile that they were all dressed as maids.
Finished up ep. 12

Man that was some funny stuff!
Though it seemed more like an ep. that should have been in the middle of the series rather than the end.
But it did mean the series ended on a good note.
Episode 12 –
[details=spoiler]This was a funny last episode and I agree that maybe it should have been in the middle somewhere. It felt more like a bonus episode than an ending one. Especially with the way the last episode ended.
The rock concert was hysterical. How did a day at the pool turn into this?! Haruna was too cute, but I really loved Yuu's sweet song. It was sad when she couldn't finish it and I'm glad Haruna came to her rescue. She had some great back-up dancers too! And Ayumu made me laugh wearing Yuu's armor. And that wish of his using her powers too!
But does he really think his life will ever be "normal"? :laugh: :laugh:[/details]
It doesn't show anything new, and they cramed it in with a whole bunch of stuff, and even used an English speaking announcer, but here's the 2nd season promo.
Wonderful news! I'll be looking forward to this one.
http://www.animenewsnetwork.com/news/2011-10-24/kore-wa-zombie-desu-ka-light-novel-to-bundle-2nd-anime-dvd
[size=20]Kore wa Zombie Desu ka? Light Novel to Bundle 2nd Anime DVD[/size]
posted on 2011-10-24 07:45 EDT
2nd anime season's unaired Episode 0 included with 10th novel volume in April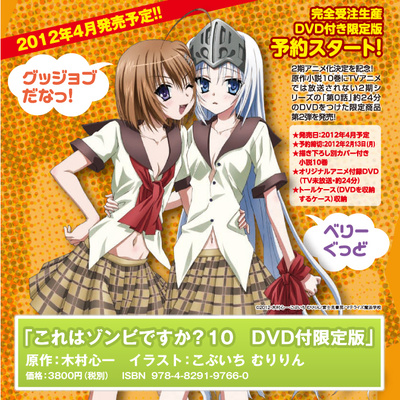 The Japanese publishing conglomerate Kadokawa announced on Monday that the 10th volume of Shinichi Kimura's original Kore wa Zombie desu ka? (Is This a Zombie?) light novel series will bundle its second original anime DVD in a limited edition next April. The included "Episode 0" for the upcoming second anime season will be about 24 minutes long. The limited edition will also come with an exclusive illustrated book cover and a tall case to contain the DVD.
The first anime season based on Shinichi Kimura's original light novel series aired in Japan from January to March. The eighth light novel volume bundled the franchise's first anime DVD in June. Also that month, Fujimi Shobo's Monthly Dragon Age magazine announced that a second anime season has been green-lit.
In the story, a normal high school boy named Ayumu Aikawa gets killed during a spate of mysterious serial killings. However, Ayumu is resurrected as a zombie by a necromancer girl named "Eu" (Eucliwood Hellscythe), who Ayumu had just met before dying. Ayumu then accidentally deprives the magical girl Haruna of her powers, so she demands that Ayumu take her place in fighting her nemesis Megalo.
Crunchyroll streamed the first season into several countries as it aired in Japan. Funimation announced that it licensed the first season.