Thundercats (1985)
.

Genres: action, adventure, science fiction
Themes: aliens
Objectionable content: Mild
Plot Summary: Following the destruction of their home planet Thundera, the surviving Thunderans (a cat-human race) hope to find a new home, only to be attacked by mutant pirates. All but one Thunderan ship are destroyed by the mutant attacks. Aboard that ship, Jaga instructs seven other Thunderans to board their stasis pods while he directs the ship to the nearest planet Third Earth. The ship crashes, Jaga dies and the other Thunderans call Third Earth their new home. Gifted with the ability to use the coveted Sword of Omens, the young Lion-O takes leadership of the Thundercats to battle the mutants and their new leader Mumm-ra, who has awakened from his eternal sleep on the planet.
Number of episodes: 130
Vintage: 1985-01-23 to 1986-12-05
Thundercats (2011)
.

Genres: action, science fiction
Objectionable content: Mild
Plot Summary: The kingdom of Thundera has been attacked by an army of Lizard people. Lion-O and the Thundercats are set on a quest to obtain the Book of Omens to help restore their kingdom's peace. The team will have to face numerous villians that stand in their way including Mumm-Ra & Slythe. With the Sword of Omens in Lion-O's possession, he'll be able to use its powers to fight off the evil that stands before him on his quest.
Number of Episodes: 26
Vintage: 2011-07-29
posted on 2010-06-02 14:54 EDT
New series based on '80s fantasy action series to run on Cartoon Network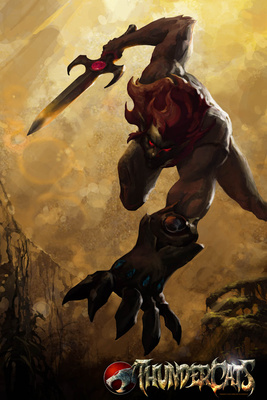 Warner Bros. Animation is announcing on Thursday that Studio 4°C, the anime studio behind Tekkonkinkreet, Genius Party, and parts of The Animatrix, is animating a new version of the 1980s fantasy action television series Thundercats for the Cartoon Network. Sam Register, Cartoon Network's Executive Vice President of Creative Affairs, described the new series as "Warner Bros. Animation's first anime series." (Several Japanese studios subcontracted on the original Thundercats series as well.)
Studio 4°C had previously worked with Warner Brothers on The Animatrix, Batman: Gotham Knight, and Halo Legends — three earlier Japanese-animated Warner Brothers projects based on American entertainment franchises. Register is serving as the new project's executive producer after working on Hi Hi Puffy AmiYumi, Transformers: Animated, Teen Titans, Ben 10, and Batman: The Brave and the Bold. Michael Jelenic (Batman: The Brave and the Bold, Wonder Woman) and Ethan Spaulding (Avatar: The Last Airbender) are producing.