Pokémon
Genres: adventure, comedy, tournament
Themes: monsters, trainer battles
Objectionable content: Mild
Plot Summary: A young boy named Ash Ketchum embarks on a journey to become a "Pokémon Master" with his first Pokémon, Pikachu. Joining him on his travels are Brock, a girl-obsessed Rock Pokémon Trainer, and Misty, a tomboyish Water Pokémon Trainer who may have a crush on him. Ash and Co. end up traveling through various regions, including Kanto and Johto, and then enter the Pokémon League competitions there. Along the way, they run into many confrontations with Jessie, James, and Meowth, a trio of Pokémon thieves who are apart of an evil organization called "Team Rocket". But every time Team Rocket try to do their evil deeds, they fail thanks to Ash and his Pokémon.
Number of Episodes: 276
Vintage: 1998-09-08 to 2003-10-25 (USA)
Pokémon Advance
Genres: adventure, comedy, drama, tournament
Themes: monsters
Objectionable content: None
Plot Summary: After participating in the Johto League, Ash decides to begin anew in yet another journey; this time by himself and Pikachu, in the land of Hoenn. Though he isn't alone for long, as 10 year old May(whom dislikes Pokemon, but just wants to come along to see the world) travels with him after Pikachu destroys her bicycle. Ash also meets up with his old companion, Brock, and May's younger brother, Max. Together, they travel along in Hoenn, battling Gym Leaders, entering Contests, and other events on the way to the Hoenn League.
Number of episodes: 192
Vintage: 2003-11-01 to 2007-03-03 (USA)
Pokémon Chronicles
Genres: adventure, comedy
Objectionable content: None
Plot Summary: Tells the tales of many events that happen in parallel with Satoshi and his journey. The tales range from what his old Pokémon are doing in Ookido's lab, to the origins and secrets of Rocket-dan, and the lives of past trainers he met such as Kenji, Hiroshi, and Shigeru. Each episode tells a chapter in that person's life.
Number of episodes: 20
Vintage: 2006-06-03 to 2006-12-11 (USA, Cartoon Network - Toonami)
Pokémon Diamond & Pearl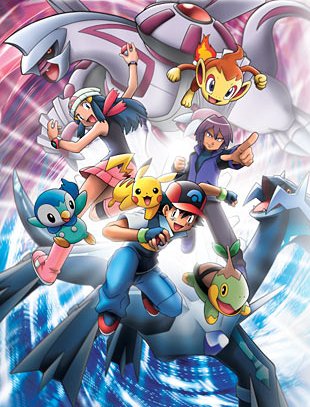 Genres: adventure, comedy, drama, tournament
Themes: monsters
Objectionable content: None
Plot Summary: Hikari is a 10 year old girl that wants to be a top coordinator just like her mother. She receives the starting Pokémon - Pochama, after saving it from an Ariados's attack. Meanwhile, after conquering the Battle Frontier and motivated by his old rival Shigeru, Satoshi sets off to the far away land of Shin'ou. Once there, he meets Hikari and is reunited by his old friend Takeshi. Hikari - aiming to be top coordinator, and Satoshi - aiming to be a Pokémon Master and battle in the Sinnoh League, venture in the land of Shin'ou…Meeting lots of new Pocket Monsters, "Pokémon" for short, along the way.
Number of Episodes: 191
Vintage: 2007-04-20 to 2011-02-05 (USA)
Pokémon Black & White!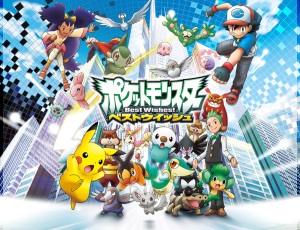 Genres: adventure, comedy, science fiction, tournament
Themes: monsters
Objectionable content: Mild
Plot Summary: The journey of young Satoshi (Ash Ketchum) of Kanto continues as he arrives in the Isshu (Unova) region, still aiming to be a Pokémon Master; he and his partner Pikachu meet up with new comrades Iris and Dent (Cilan). As Satoshi challenges the Gyms of the Isshu region and battles new rivals, there is danger lurking behind the scenes as criminal syndicates Team Rocket and Team Plasma each have their own dark agendas for all the people and Pokémon who reside in Isshu.
Episodes: 84 + 58 episodes for Rival Destinies
Vintage: 2011-02-12 (USA)
Pokémon XY
Genres: adventure
Number of Episodes: 51
Vintage: 2014-01-18 (US-Cartoon Network Premiere)
Pokémon the Series: XYZ
Number of Episodes: 47
Vintage: 2016-02-20 (USA)
Pokémon Sun & Moon / Pocket Monsters Sun & Moon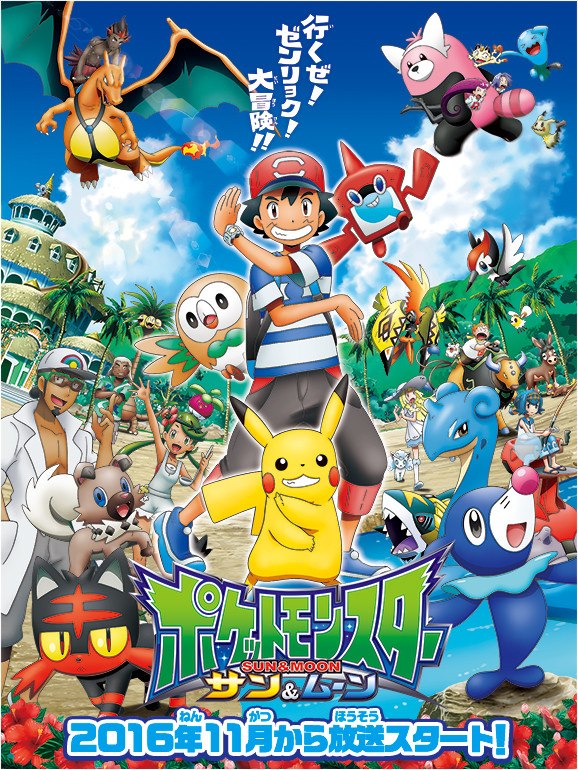 Genres: adventure, tournament
Vintage: 2016-11-17
Plot Summary: Alola, a place with beautiful blue sky and sea, has become the new stage of adventure for Satoshi and Pikachu. New Pokemon, new friends, and new experiences await them.
Pokémon Side Story (TV) Vintage: 2002-10-15 to 2004-09-28
Pokémon: Pikachu's Winter Vacation (OAV) Vintage: 1998-12-22
Pikachu's Winter Vacation 2000 (OAV) Vintage: 1999-12-22
Pikachu's Winter Vacation 2001 (OAV) Vintage: 2000-12-22
Bokutachi Pichu Brothers: Fūsen Sōdō no Maki (OAV) Vintage: 2000-12-22
Bokutachi Pichu Brothers: Party wa Ōsawagi! no Maki (OAV) Vintage: 2003-07-18
Pokémon: The First Movie Vintage: 1998-07-18
Pikachu's Summer Vacation (movie) Vintage: 1998-07-18
Pokémon 2000 - The Movie Vintage: 1999-07-17
Pikachu's Rescue Adventure (movie) Vintage: 1999-07-17
Pokémon 3 - The Movie Vintage: 2000-07-08
Pikachu and Pichu (movie) Vintage: 2000-07-08
Pokémon 4Ever (movie) Vintage: 2001-07-07
Pokémon - Pikachu's PikaBoo (movie) Vintage: 2001-07-07
Pokémon Heroes - Latias & Latios (movie) Vintage: 2002-07-13
Camp Pikachu (movie) Vintage: 2002-07-13
Pokémon: Jirachi Wish Maker (movie) Vintage: 2003-07-19
Pokémon: Gotta Dance (movie) Vintage: 2003-07-19
Pokémon: Destiny Deoxys (movie) Vintage: 2004-07-17
Pokémon 3D Adventure: Mew o Sagase! (movie) Vintage: 2005-03-18
Pokémon: Lucario and the Mystery of Mew (movie) Vintage: 2005-07-16
Pokémon 3D Adventure 2: Pikachu no Kaitei Daibōken (movie) Vintage: 2006-05-20
Pokémon Ranger and the Temple of the Sea (movie)Vintage: 2006-07-15
Pokémon: The Rise of Darkrai (movie) Vintage: 2007-07-14
Pokémon: Giratina & The Sky Warrior (movie) Vintage: 2008-07-19
Pokémon: Arceus and the Jewel of Life (movie) Vintage: 2009-07-18
Pokémon Zoroark: Master of Illusions (movie) Vintage: 2010-07-10
Pokémon the Movie: White - Victini and Zekrom Vintage: 2011-07-16
Pokémon the Movie: Black - Victini and Reshiram Vintage: 2011-07-16
Pokémon the Movie: Kyurem VS. The Sword of Justice Vintage: 2012-07-14
Meloetta's Moonlight Serenade (movie) Vintage: 2012-07-14
Pokémon the Movie: Genesect and the Legend Awakened Vintage: 2013-07-13
Pikachu to Evee Friends (movie) Vintage: 2013-07-13
Pokémon the Movie: Diancie and the Cocoon of Destruction Vintage: 2014-07-19
Pokémon the Movie XY: Ring no Chōmajin Hoopa Vintage: 2015-07-18
Pikachu to Pokémon Ongakutai (movie) Vintage: 2015-07-18
Pokémon the Movie: Volcanion and the Mechanical Marvel Vintage: 2016-07-16
Pokémon the Movie: I Choose You! Vintage: 2017-07-15
Pokémon: Mewtwo Returns (special) Vintage: 2000-12-30
Pokémon Crystal - Raikou, The Legend of Thunder (Special) Vintage: 2001-12-30
Pikachu's Summer Festival (Special) Vintage: 2004-08-01
Pikachu's Ghost Carnival (Special) Vintage: 2005-08-01
Pokémon: The Mastermind of Mirage Pokémon (special) Vintage: 2006-04-29
Pikachu's Island Adventure (special) Vintage: 2006-08-01
Pokémon Mystery Dungeon: Team Go-Getters Out of the Gate! (special) Vintage: 2006-09-08
Pikachu's Exploration Club (special) Vintage: 2007-08-01
Pokémon Mystery Dungeon: Explorers of Time and Darkness (special) Vintage: 2007-09-09
Pikachu's Ice Adventure (special) Vintage: 2008-08-01
Pokémon Mystery Dungeon: Explorers of Sky - Beyond Time & Darkness (special) Vintage: 2009-04-12
Pikachu no Kirakira Daisōsaku! (special) Vintage: 2009-08-01
Pokémon Ranger: Guardian Signs (special) Vintage: 2010-02-28 to 2010-03-07
Pikachu no Fushigina Fushigina Daibōken (special) Vintage: 2010-08-01
Pokémon: Diamond & Pearl Tokubetsuhen (special) Vintage: 2011-02-03
Pikachu no Summer Bridge Story (special) Vintage: 2011-08-01
Pokémon: Mewtwo - Prologue to Awakening (special) Vintage: 2013-07-11
Pokémon: The Origin (Special) Vintage: 2013-10-02
Pokémon: Mega Evolution Special I Vintage: 2014-04-03
Pokémon: Mega Evolution Special II Vintage: 2014-11-06
Pokémon: Mega Evolution Special III Vintage: 2015-03-19
Pokémon: Mega Evolution Special IV Vintage: 2015-10-29